How to Hide Cables Behind Skirting Boards With Cable Rebate?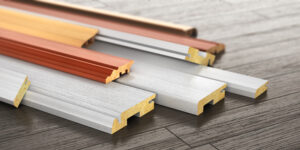 Do you have cables running through a room in your business property or home? This can look unsightly and make the room feel cluttered, spoiling the overall aesthetic. If the wires come away from the wall, it can also lead to health and safety issues. That's why you might be interested in exploring some of the best ways to hide electrical cables. Let's explore some of the options that are available to you. 
The Rebate Solution 
One of the best possibilities when hiding electrical cables would be to use a cable rebate. This can provide you with the clean and decluttered look that you have been searching for. Rebated skirting board can be used to provide a cost effective solution that will allow you to keep wires in the room under control. 
A rebated skirting board is a skirting board piece that has a small recess cut into it. This can be used to hide the wires. The rebate will be a different depth depending on the depth of your skirting board. 
It's easy to add this option to your home too during a renovation but you will need to put the cable through the rebate when it's installed. If you have thick cables or a high number of wires,, you will need a greater level of depth. 
It is also possible to use rebate to cover old skirting boards rather than adding a skirting board to a bare wall. You will need to make sure that the new rebated skirting board that you order is the right height to cover the old skirting and get the effect you are looking for. If you are looking for skirting boards, there are some great choices from our store that are made from high quality materials. 
Are There Other Options?
If you are not planning on using a cable rebate, then the most common and obvious solution would be trunking. Here, the cables won't be hidden beneath the skirting board. Instead, plastic trunking will be added to the wall around your home. This is a thin piece of plastic that forms an unobtrusive covering around the wires. This casing can run either horizontally or vertically depending on what the cables are connected to. 
One of the reasons why trunking is so popular is that the solution is both cheap and easy to work with. However, it doesn't hide the wires completely and you are left with something that still isn't particularly aesthetically pleasing as part of your home. 
That's why a cable rebate for your skirting board is always going to be the best choice. It's the only solution that will hide your cables from sight completely and keep your room clean and clear. Trunking is so big and bulky that it will immediately draw attention away from other areas in the room. 
We hope this helps you understand some of the best ways to ensure that your cables are hidden the right way underneath your skirting boards. This is a great option for decluttering any room. 
Unhappy with the designs of your current skirting boards? Maybe they're warped beyond repair or just very old. If you're looking to buy new skirting then you've come to the right place. My Skirting Boards design and manufacture moisture resistant skirting at competitive prices! For advice on choosing the right skirting board, give us a call on 0333 366 0082 or drop us an email at sales@myskirtingboards.co.uk.